Real Money
Page updated on: 23.03.2019
Playing Slots With Real Money
When you are tired of playing slots with play money, and you want the real excitement that you can get from a casino game, you can play slots with real money. When you want to stake your real money in an online casino there are certain things that you need to look out for in order to have a good time at the casino.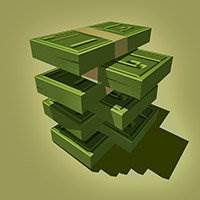 When you want to play casino games with real money you will first have to choose an online casino. You can read our guidelines about what you need to look out for in an online casino when playing slots with real money. All casinos presented on CasinoDaemon.com are licensed and trustworthy, and you can be certain that all the games are fair.
Choose which type of slot you want to play. There are many different types of slot machines available and you should make yourself familiar with the variance of slot machines before you select a game you want to play.
When you play a slot for real money you should check the wager that is pre-selected when you start the game. If it is too high or too low you can change it before spinning the reels. Keep in mind not to play more than you can afford to lose. You can also read our guidelines for responsible gambling.
If you are looking for a game to play you can browse our database of available slots, read reviews and find out where to play these games. If you want to check out the casinos visit our page with the best online casinos for slots.
Go back to the Overview of slots guides and tips or
Read other articles about
→ Return to player payout percentage
→ Play slots with software, instant play or mobile
→ Are online casinos trustworthy or a scam?
→ Slot machine strategies and myths
→ Playing slots with bonus money