Deal or No Deal
Page updated on: 02.09.2019
User opinion:
Average rating of 4.0 from 1 votes
Deal or No Deal Live | Evolution Gaming Table Game & Casinos
If you've heard of the television show Deal or No Deal already, you might have an idea of what this game is about. This live table game has been created in partnership with the company Endemol Shine, and is an adaptation of the famous television gameshow. It's not the typical live casino table game that you might expect, as it offers a unique gameplay that is exciting and can reward some great prizes.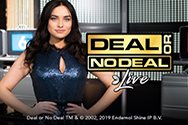 At Deal or No Deal Live, players have to predict whether the amount of money in the last briefcase of the 16 cases is higher than what the bank is offering in turn. Getting to this stage though can be extremely thrilling and you have to make several decisions along the way.
One thing to keep in mind when playing this game is that it is more suited for players with a slightly larger bankroll, as it can take some time to get past the qualifying round, and you may end up spending more than you intended while qualifying and topping up. Also, gameplay is not very fast, so it's not a game that you can just play a quick round here or there, you should plan that it will take 5 min or more to play each round.
Where can I play Deal or No Deal Live?
There are many online casinos that offer access to the Evolution Gaming live casino, and most of those casinos also offer access to the Deal or No Deal Live table. Every casino in our list is fully licensed and has a good reputation with the players. You can also find detailed reviews for each website, providing information about the games, bonuses, payments and everything else you should know about the casino.
Play Deal or No Deal Live here:
Qualifying round
To start the game, players will first have to spin the wheel to qualify for the game. Place your bet and spin the wheel. To qualify, you need to match up golden segments from the three rings and align them. It will cost the price of your selected bet each time you try. Your bet size also affects how much money you can win potentially, and you can see the possible prizes on the left and right side, and an amount of between 75x and 500x your bet size will be randomly chosen for case number 16 (or another case you wish to select). For example, if you select €1 as your bet size, the value of case 16 can be between €75 and €500.
You can also pay more to unlock one or two rings by changing the level from the normal setting. The bet increases 3x to have one ring unlocked, and 9x for two rings.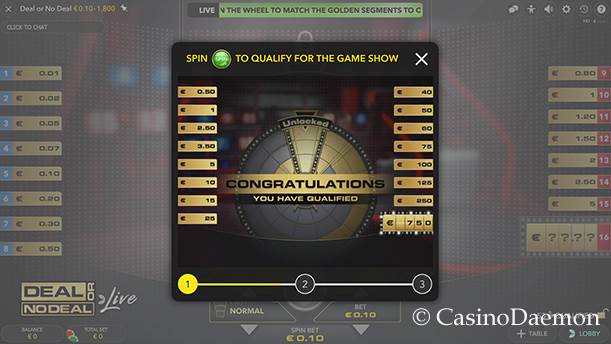 Topping Up
Once you've qualified you'll see a second wheel that allows you to top up the value of the briefcase a with a multiplier of your selected bet of between 5x and 50x your bet. You can select any of the briefcases that you wish to top up by simply clicking on them. For example, if you spin with a bet size of €1, the total value of the selected case can be increased by between €5 and €50. You can also spin the wheel multiple times in a row, each time it will cost you the selected bet. The topping up options stops, once the timer has run out. Keep in mind, that each spin will raise the total amount that you have spent on one game round.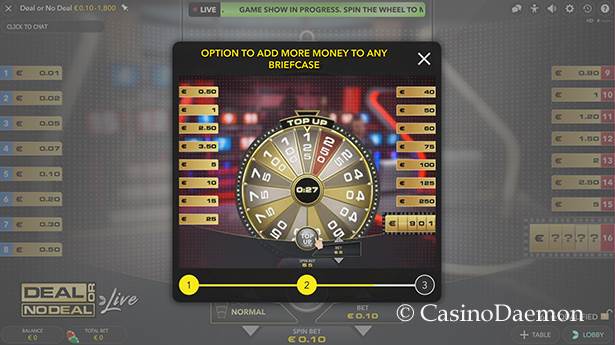 The main game
The main game starts afterwards. You'll see the game hosts and 16 silver briefcases, one of them on the hosts table and 15 in the background. One of the hosts will open them in sets, with three cases first, and the numbers of the cases will correspond to the amounts shown on the screen for each case. The bank will then make the player an offer to buy them out, and you can choose to take it or leave it. If you decide to not take the deal, the next four cases will be opened and the bank will present players yet another offer to buy them out. In round three, four more cases will be opened and in round four three more cases. This will leave just two cases in the end, and you can decide to switch them around, take the buy-out or gamble for the prize in the case. The choice is yours.