Lightning Dice
Page updated on: 10.09.2019
User opinion: No votes left yet. Cast your vote!
Lightning Dice | Evolution Gaming Table Game & Casinos
When visiting Evolution Gaming's live table game Lightning Dice you'll be greeted with an electrified atmosphere, with flashing lights on the side, lightning bolts flashing in columns, a lit-up dice tower and a host dressed in themed attire which is truly a nice touch.
In Lightning Dice Live players have to predict the total value of the three dice tumbling through the dice tower. You can play the game with bets starting from €0.20 which can be raised to an amount up to €1000.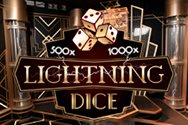 The game has a relatively fast pace, with each round just lasting about a minute. This fast-paced game starts with relatively low wagers and is therefore also suitable for players with a lower bankroll or balance, or for players who occasionally like to play a quick round of a simple dice game. There is not much to learn about the game, and you don't have to make any decisions other than how much you want to stake, and how risky you want this bet to be with regards to the probability. This is a pure game of chance.
The theoretical return to player percentage is 96.21%, which is based on the 3 or 18 bets. Overall return to player range is between 96.03% and 96.21%.
Where can I play Lightning Dice?
You can play the dice game Lightning Dice at most online casinos that offer access to the live casino tables from Evolution gaming. Every casino is operated with a valid licence, and you can find detailed review for each site, giving you more information about the bonuses, games payments they offer. Many of those casinos also offer bonuses for live casino games.
Play Lightning Dice here:
Placing bets
Between each round at the Lightning Dice Table, you have time to choose your bet and place it on the number that you think will be rolled. The numbers are between 3 and 18, and show the total value that the combined dice can have. Depending on the probability of each combination being rolled, you'll see win multipliers underneath. A more unlikely result will have a higher multiplier displayed. It is possible to win up to 1000x your bet, but you need to bet on a more unlikely option of 3 or 18 points and this multiplier is the highest possible after a lightning strike.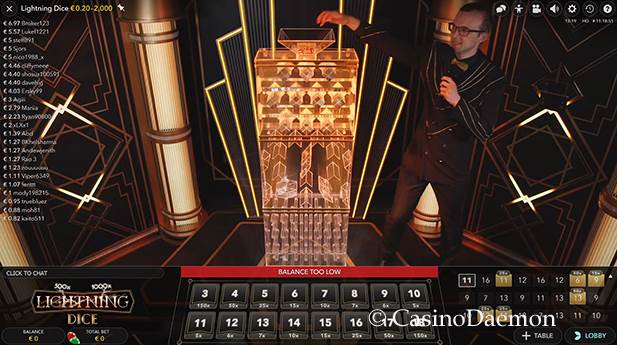 Lightning strikes with multipliers
After the betting time is expired and players have made their bets and selected the numbers, lightning will strike onto the numbers and select one or more random numbers and apply a random multiplier to them that can get much higher than the original multiplier shown. This adds another interesting touch to the game and possible payouts.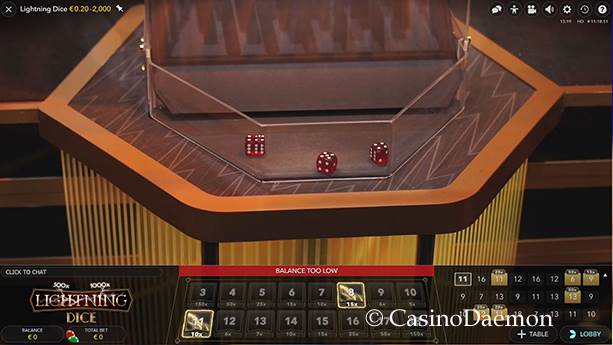 The game starts
The host will initiate the dice roll by pulling on a lever, and you can watch the dice tumble through the dice tower. Once the dice come to rest at the bottom, the result will be shown and announced by the host. Players who guessed the right number will get paid out their bets. Afterwards, a new game round starts.