Monopoly Live
Page updated on: 27.04.2019
User opinion:
Average rating of 2.9 from 7 votes
Monopoly Live | Evolution Gaming Table Game & Casinos
Monopoly is one of the most popular board games in the world. The game was first published by Parker Brothers in 1935, and it was based on The Landlord's Game created by Lizzie Maggie in 1903. The aim of the game is to get the monopoly of hotels, dominate the market and drive other players into bankruptcy. What makes this game so popular today is, that it also comes in a plethora of variants, including pop-culture brands and country-specific themes.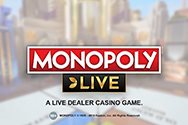 In the past, there have been several slot games based on the popular Monopoly theme, but players aren't able to win the game by applying a strategy, like it is possible in the board game. Nevertheless, the themes and features provide endless fun and winning opportunities.
The Monopoly Live casino game from Evolution Gaming is a new take on this game, licensed by Hasbro, and it comes in the form of a wheel. All you need to do is to bet on the number that the wheel will stop on. The host will spin the wheel and once it stops the result will determine your win or loss.
Where can I play Monopoly Live?
You can join the Monopoly Live game from Evolution in any casino that offers access to the Evolution Gaming live casino. All these casinos have valid licenses, a good player reputation, and we provide detailed reviews for each operator.
Play Monopoly Live here:
Betting options in Monopoly Live
You can bet on different numbers or Rolls, offering different chances and payouts, but it is also possible that the wheel will land on 'Chance' . Mr. Monopoly will then present you a chance card that can either have a random cash prize or a multiplier bonus. If it's the bonus, all player bets will remain in place, and the host will spin the large wheel again. The multiplier will be awarded to wins of this next round. It's also possible to spin several multipliers in sequence, which means that the multiplier will be multiplied.
The 3D bonus game
The Monopoly Live also offers the chance to start a bonus games. To participate, players must bet on the '2 Rolls' or '4 Rolls' fields and the wheel must land on one of those fields. The bonus game involves Mr. Monopoly entering a 3D augmented reality world where he will collect prizes, multipliers and more on the Monopoly board. The board is also available in different languages, including, English, German and Italian.