Pros and Cons
Advantages and disadvantages of playing at mobile casinos
Playing at mobile casinos can be the right thing for some people, but not for others. Find out what's good (or bad) about mobile gambling in this article - however, don't let the disadvantages put you off from trying out if it works for you.
You can usually play the casino games for free on your phone before playing with real money. This allows you to make your own decision on whether you like it or not and to see if it works.
Trustworthy mobile casinos in 2022
Even though there are hundreds of mobile casinos it's important that you take the time to compare operators and not just blindly pick the first best one. Casinos recommended at CasinoDaemon have a good reputation with players and are generally trusted. You can take a look at our top list of recommended casinos by clicking below.
♠ Withdrawals are processed within 24 hours
♠ Promotions for live casino and slots available
♠ huge game selection
♠ Games on Desktop: 3000 | Mobile: 2800 ♠ USD accepted: ✓ ♠ English Website: ✓
♠ Casino, Live Casino
Visit
Review
(T&Cs apply)€/$1,500 Bonus + 300 Free Spins over 4 deposits

▼ More Details ▼


1st deposit: 100% up to €/$300 and 300 Spins
2nd deposit: 50% up to €/$400
3rd deposit: 25% up to €/$400
4th deposit: 25% up to €/$400 (Bonus Codes required)
♠ Payments are usually processed within 24 hours
♠ 24/7 support
♠ Games from many developers
♠ Games on Desktop: 1200 | Mobile: 1000 ♠ USD accepted: ✓ ♠ English Website: ✓
♠ Casino, Live Casino, slots, Jackpots
Visit
Review
(T&Cs apply)Up to €1000 + 100 free spins over 4 deposits (or other currency equivalents)

▼ More Details ▼


1st deposit: 100% up to €200 + 25 free spins
2nd deposit: 50% up to €200 + 25 free spins
3rd deposit 50% up to €300 + 25 free spins
4th deposit: 25% up to €300 + 25 free spins
♠ responsive website for mobile casino
♠ payments are processed fast and reliable
♠ bonus terms and wagering are fair
♠ Games on Desktop: 3000 | Mobile: 2800 ♠ USD accepted: ✓ ♠ English Website: ✓
♠ Casino, Live Casino
Visit
Review
(T&Cs apply)up to €/$1500 over the first 4 deposits plus 300 free spins

▼ More Details ▼


1st deposit: 100% up to €/$300 and 300 Free Spins
2nd deposit: 50% up to €/$400
3rd deposit: 25% up to €/$400
4th deposit: 25% up to €/$400(Bonus Codes required)
*Bonus T&Cs apply! Accuracy not guaranteed, terms can change any time.
Advantages of mobile casinos
The main advantage of playing mobile casino slots is that you can access the games anywhere you want, as long as you have a steady connection to the Internet.
For example, you can sit comfortably on your couch, or have a quick game at the bus stop. Who knows, maybe you hit a huge jackpot while waiting for the bus or in line to order a coffee...?
You don't have to travel anywhere to play, you are carrying all games in you pocket. Easy access is guaranteed when you play at mobile casinos. The games are also super fast to access, you don't need to wait for your computer to boot up.
Mobile live casino games
Do you like roulette and blackjack? You won't have to wait for other people to finish their game before you can play like you would have to if you were to play at a land-based casino where it could happen that the table is full, and that you have to wait.
Of course, this won't happen when you play online, you can always take a seat at a virtual table, and play online versions of popular games against the computer, or even at the tables of the live casino, which you can also visit from your mobile device.
The live casinos stream video directly to your mobile or tablet, and you can make the decisions on your device. The interface of the game is responsive and optimised for touch screens.
Playing mobile with bonus money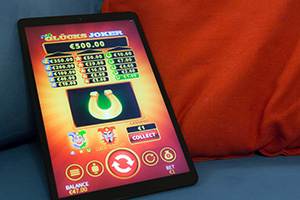 Sometimes the casinos also give you special bonuses, that you can receive when you play on the mobile site, or app. With this bonus money you have more chances of hitting a big jackpot, without actually spending more money.
Many different types of casino bonuses are available, including no deposit bonuses, deposit bonuses, extra spins, live casino bonuses, and many others.
Thousands of mobile casino games
The mobile game selection is now in the thousands, and it has grown significantly over the last few years. Games are developed in HTML5 and they are compatible with most modern smartphones or tablets. File sizes are relatively small, and they are downloaded quickly onto your device.
Mobile game developers make responsive games that you can use with buttons on your touch screen and they adapt easily to the size and type of your device.
Disadvantages of mobile casinos
There are also some drawbacks when you play on your mobile, and it's important that you consider them as well.
Smaller game selection
When playing games on your smartphone or tablet, you will notice that the selection of games isn't as large as it is on the computer websites. This is because not all casino games had been developed to be compatible with mobile devices, as mobile gaming wasn't really in the scope when online casino games became popular in the mid 2000s.
Nowadays, all games are developed for mobile and desktop devices alike, and the browser automatically decides which version it will present to you - a computer version or the mobile touchscreen version.
Games available have been optimised for mobile use to be touchscreen compatible, and also to have smaller file-sizes. The game developers are constantly improving the selection by adding new games regularly. However, if you want to play other games you can simply logon to the website from a computer.
Responsive design might not fully work
Online casinos use a responsive design that will automatically detect the size of your screen. The websites normally give you the full functionality, and you can make deposits, withdrawals and contact the support.
Unfortunately, this will not always fully work, as the multitude of devices may not fully support the casino's website, and limit functionality. Although operators are constantly working on making their casino work on most devices, yours may not be on the list. The only way to find out is to sign up and try the casino's games for play money, navigate the pages and see if all the features work.
Internet connection interruptions
The internet connection should also be considered, as it can have a significant impact on your gaming experience. In general, the best is to use a fast wireless network with a stable connection.
Using your mobile phone operator's network may pose some problems, as casino games, although they are relatively small, may require more data volume, especially if you play more than one game. So, if you have a limited data package you may use up your data allowance and additional costs may incur.
It's important that the connection is stable and doesn't interrupt. If a slot game is interrupted it gets resumed when you re-connect, but if a live casino game gets interrupted you may be at a disadvantage if you're not able to make important decisions in time, like for example hitting at blackjack.
Increased risk of gambling addiction
With casino games being available at any time and any day, no matter where you are, it will also mean that it's much easier to fall into the trap of compulsive gambling. Gaming is no longer confined to a dedicated time when you're at home at your computer, or when you're visiting a gaming hall.
So, to keep gaming a responsible pastime you need to be vigilante about your own playing behaviour and ideally set yourself some limits. If you feel that you're playing too much and you're not able to stop, you might want to consider visiting gamcare.org ↱ or begambleaware.org ↱ for a test about gambling addiction. You can also find contacts who you can talk to. More about responsible gambling is explained here.
Mobile Casino FAQ
In a nutshell, gambling on your mobile is more convenient than on a computer, as you can play anywhere at any time and just have to reach into your pocket. Many mobile casino games give you plenty of options, and you can also play the slots for free before spending real money. You can also get casino bonuses on mobile and play longer for your deposit. Read this article to find out more.
The probably greatest disadvantage when playing online is that you are at risk of interrupted connections and the possibility to loose some money at the live casino table if you can't make a decision in time. It's recommended to play with a fast and stable wireless connection only.
Also, there is an increased risk of gambling addiction, as playing on your phone is very easy and you can access it anywhere. This will make it harder to stay in control. Read more in this article to learn more about responsible gambling.
The reason for a smaller game selection on mobile devices is that not every game has been developed in HTML5, and is therefore not compatible with mobile operating systems. Older games used to be developed in Flash, which hasn't been supported on mobile for many years now, but newer games are all developed in HTML5, so you'll find them all on your mobile as well.