Street Fighter II
Page updated on: 23.10.2020
User opinion:
Average rating of 5.0 from 3 votes
Street Fighter II - The World Warrior Slot Review & Casinos
If you were born in the 1970s or 1980s you might be familiar with the popular Street Fighter game series, which was first released in 1987 as an arcade game in Japan, but it experienced world-wide success when the second instalment Street Fighter II ↱ was released for the NES and Sega Mega Drive.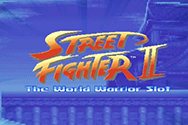 The slot game developer NetEnt created the new slot to celebrate the world's most popular fighting game franchise, and they managed to come up with an interesting game mechanic that is innovative and fun.
What makes Street Fighter II - The World Warrior online slot special is that players can chose the volatility of the game by selecting their favourite character, and they will then play a battle which will result either in free spins or a bonus game.
This new online slot from NetEnt is good for players with a slightly larger bankroll, as you may want to play it for a bit. Each battle can last many spins, and since you'll get either the bonus game or the free spins at the end, it's best to play the slot until you finish the battle.
It's a very entertaining slot, and NetEnt has really proven again that they can produce an innovative and unique game.
Play Street Fighter II here:
Choose your character
| | |
| --- | --- |
| Developer: | NetEnt |
| Reels/Rows: | 5/5 |
| Pay-lines: | Cluster Pays |
| Payout % | 96.02% - 96.08% |
| Progressive: | No |
| Mobile play: | Yes |
| Maximum win: | |
| Bet size: | 0,20 - 700 |
| Special Features: | Wilds, Free Spins, Bonus Game, Multipliers |
| Gamble: | No |
Before you start a battle in Street Fighter 2 you can select the character you wish to play with. Each character has their own special abilities and affects the volatility of the game round. The character cannot be changed until the battle is over.
Dhalsim: 3 or 4 random wild symbols are placed on the screen
E. Honda: 3 wild symbols are placed on the same reel
Ryu: 3 wild symbols are placed in the same row
Guile: two stacks of 2 wild symbols are placed vertically on the screen
Zangief: two stacks of 2 wild symbols are placed horizontally on the screen
Chun Li: 2 to 7 random wilds are placed on the screen
Blanka: 1 to 5 wilds can be placed on the same reel
Ken: 1 to 5 wilds can be placed in the same row
The volatility increases with each character, and you can decide if you'd rather have a game with more frequent but lower wins, or less frequent but larger wins. Whatever you select, keep in mind that there is no guarantee for a high win, it's just an overall probability, determined over billions of spins.
Once you've chosen your character you cannot change it until the battle is over. Your opposing character is chosen at random, as is the arena setting. The battle continues until one of the characters runs out of health points.
The character also has a slight influence on the theoretical return to player of Street Fighter II, which is generally between 96.02% and 96.08%.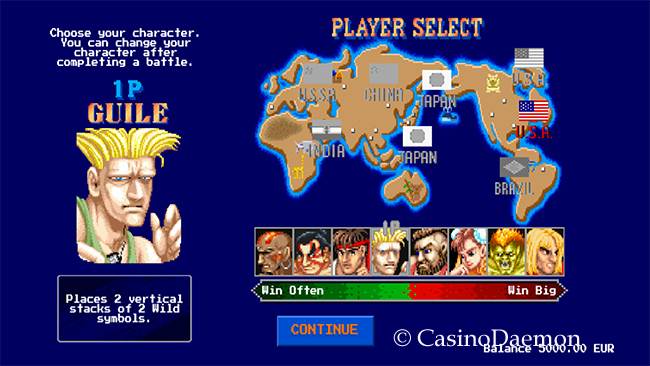 Graphics and game mechanic
The 16-bit graphics of the Street Fighter II The World Warrior slot are just like the original game, and they invoke a somewhat nostalgic feeling. This will truly make fans of the original video game very happy! Even the movements of the characters are just as jerky as you'd remember them to be!
The symbols show the two opposing characters in two states - with and without injury - which are called Victory and Defeat symbols, as well as standard slot symbols A, K, Q and J. Victory and Defeat symbols can also appear as colossal 2x2 symbols on the reels.
The casino slot works with Cluster Pays on a grid of 5x5. More than one winning combination is possible, as winning symbols dissolve and make room for more symbols falling from the top, which can lead to more winning combinations.
Your character deals hits to the opposing character when the winning combination shows your character's defeat or victory symbols. Similarly, you loose health points when the opponent has their defeat or win symbols in the winning combination.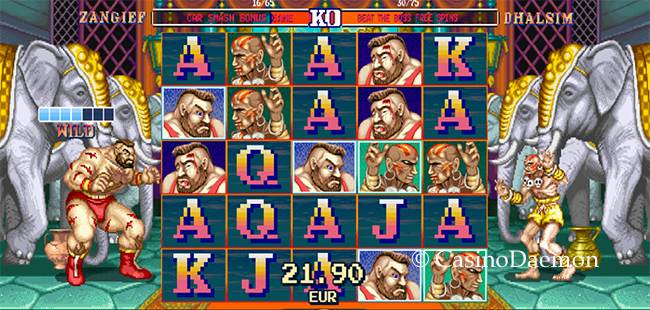 The wild gauge
Next to your character you can see a wild gauge. It is reset with every spin, and filled with high-value symbols. If it's completely filled, and no more winning combinations are possible, the character will release their special combo wild feature, as outlined above in the character selection.
The special wild symbol will then stand in for all other symbols to create winning combinations.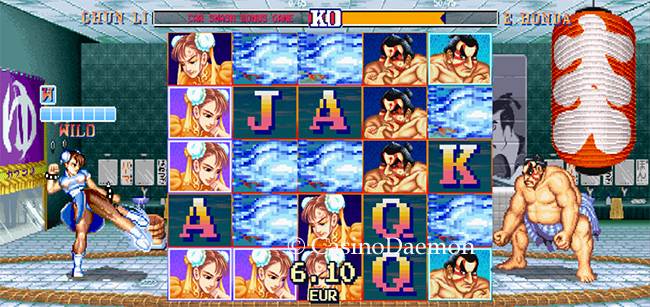 Beat the Boss Free Spins or Car Smash Bonus Game
Street Fighter II offers two interesting features that start once the battle is over. Which feature you'll trigger depends on the outcome of the battle.
The Beat the Boss free spins feature starts if you beat our opponent. There are four levels in the free spins, each with a higher multiplier and a new boss. Once you beat the opponent the new level starts. The free spins run until you'll either get defeated or defeat the last opponent in level 4.
The multiplier increases from x2 in level one, to x3 in level 2, to x5 in level 5, to x10 in level 4. If you manage to finish level 4 you'll also get a reward of 100x your bet.
You may also be able to also choose to restart the free spins once with the gamble, in case you lose. In this case you'd be giving up a portion of your winnings to restart the level. However, this feature isn't available at every casino.
The Car Smash Bonus Game starts if you lose against your opponent. You can control the character in this game and smash the car, which will release a random win between 5x and 15x your bet.