Leprechaun Hills
Page updated on: 15.03.2019
User opinion:
Average rating of 4.0 from 2 votes
Leprechaun Hills Slot Review & Casinos
Leprechaun Hills from Quickspin is an Irish-themed slot game that tells the story of the mythical leprechaun in search of the pot of gold at the end of the rainbow. You can join his adventure and try to get your hands on some of that gold! The graphics are relatively simple, nothing too spectacular, but the music supports the game nicely, as it is an uplifting Irish folk music-style. The game has a few nice features that increase your chances of winning a larger amount, these are the Lucky Re-Spins and the Rainbow Free spins.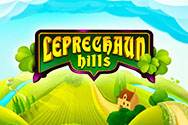 The overall variance of the game is medium, and you will probably have a few spins where you don't win anything. The winning potential however, is affected greatly by the re-spins and the free spins, so it is a game that is worth playing for a little while longer, at least until you make it to the free spins. The theoretical return to player is 96.49%, which is average for an online slot machine, and you can also play Leprechaun Hills mobile on many different devices, as the game is optimised for mobile casinos.

SELECT SQL_CALC_FOUND_ROWS url_en, cdcasinos.casino_name, review_en, logomedium FROM casinocountry, games, cdcasinos, casinodata WHERE inter=1 AND cden=1 AND (cdcasinos.casino_name=games.casino_name AND url_en!='#') AND (cdcasinos.casino_name = casinodata.casino_name ) AND (game_name='Leprechaun Hills') AND cdcasinos.casino_name=casinocountry.casino_name ORDER BY featured=0, featured ASC, cdrating DESC LIMIT 12

Unknown column 'logomedium' in 'field list'