South Park
South Park Slot Review & Casinos
Update: Unfortunately, the South Park slot is no longer available.
The funny slot machine South Park from Netent is one of their wildest and most entertaining creations yet. Many different features and bonus games create a thrilling atmosphere and great wins are possible. The game is not only for lovers of the cult comedy series, but for all people who love the somewhat dirty humour of the television show, and people who enjoy a good slot machine with great features. This is definitely a game that will make you laugh.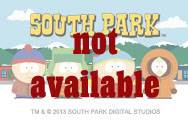 The special features trigger relatively often and you should win regularly. The game has a low variance, which means that you can play it for a while without losing your money too quickly. With a bit of luck you can also win a larger amount of money in one of the bonus games. The theoretical return to player is 96.7%.
South Park can also be played on mobile iOS and Android devices.
Special wild symbols
The game features a regular wild symbol but can appear anywhere on the screen. It replaces other symbols to form winning combinations, if possible. There are three mini features that can award you with additional wild symbols. These are triggered randomly during a spin and can either show Mr. Hanky, Terence and Philip or Eric Cartman after he had too much of the Beefcake protein shake. With highly amusing animations, they will place wild symbols on the screen. Cartman can award up to 9 wild symbols in a full block, and the others between 3 and 5 wild symbols plus some that you can get on the reels. You can win big money with these extra wild features.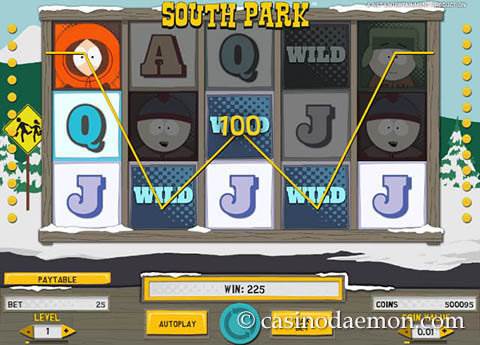 South Park slot bonus rounds
The South Park bonus games are especially interesting. There are four different games that you can trigger during normal game play. The bonus symbol can appear on reels 3, 4 and 5. The symbol on the fifth reel determines the type of bonus game that you'll get. There are four different exciting mini games.
Kenny's bonus game lets you walk down a road where you can collect coins and multipliers. Every few steps you'll pass a death zone where Kenny can have an accident when he steps on the trap that is under one of the fields. Kenny has three lives before the game ends. If you manage to go all the way to the end of the road, you'll be rewarded with an extra 5000 coins.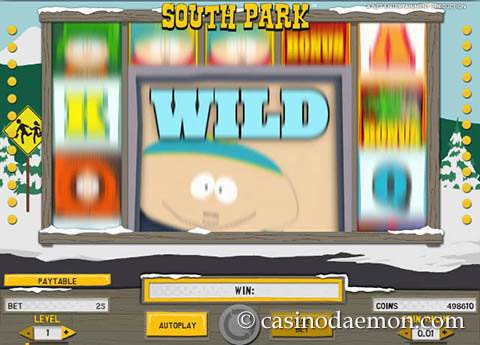 In Cartman's bonus game, you'll have the pleasure of spraying Hippies that are hiding in bushes with bear mace. You can find coins and multipliers in the bushes as well as a heavy metal fan, who will scare the Hippies away and restart the round. Hiding in one of the bushes is the police officer, and if he catches you twice, you go to jail, and the bonus game ends.
Kyle's bonus game is starts with 10 free spins. When you manage to get a symbol with baby Ike on reel 5, Kyle will 'Kick the Baby' to determine an additional multiplier, coin bonus or more spins. When the free spins are over, the game ends and you collect your winnings.
Stan's bonus game features two sticky wilds on the reels at the beginning of the game. These symbols will remain for 2 rounds, and additional sticky wilds can appear. As soon as there are no sticky wilds left on the reels, the game will end, and Stan vomits into Wendy's face. In this game you can win a great amount of money, as the reels continue to spin, as long as there are sticky wilds on the reels.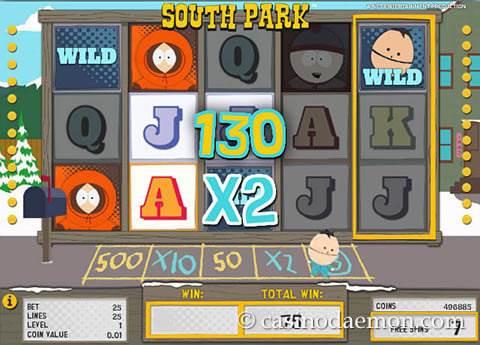 How to play
The casino slot machine has 5 reels with 3 rows and 25 fixed pay lines. You can play the South Park slot with coin values of between 0.01 €/£/$ and 1 €/£/$. They are also 10 betting levels. The minimum bet is 0,25 €/£/$ and maximum is 250 €/£/$. After you've made your wager selection, you can spin the reels by clicking on the green button. You'll also find autoplay options to lean back and watch as you might hit the jackpot. You can play South Park online in one of the casinos on the right hand side.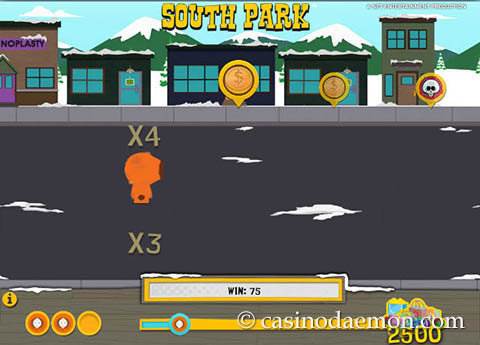 South Park slot features in action
In this video you can see all the funny features of this brilliant slot machine. You can see regular wins, the special wild features and all the bonus games. They are definitely worth it!