03.12.2017 written by Alice Kinlan
Guts Casino Christmas Promotion 2017 - An Advent calendar with €600,000 in prizes
Guts Casino is hosting a very special promotion this year called the Wired Up Winter Wonderland. This Christmas Advent calendar promotion gives you the chance to win gifts every day from a prize pool worth over €600,000.
The promotion runs from: November 29th 2017 to 2nd of January 2018 23:59 UTC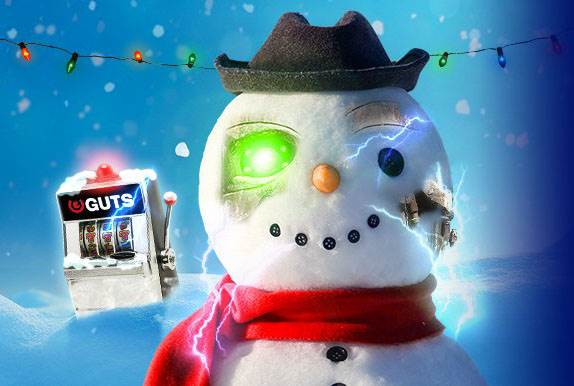 What's happening at Guts?
There are so many things happening at Guts casino, and you can win fantastic prizes when you play there this Christmas.
Mystery cash races with prizes worth over €100,000. You can participate by playing the selected slots that can trigger a random cash win.
The Christmas missions include tasks for specific dates, and if you complete them you can win cash from a prize pool of €180,000.
The Tournaments in December include leaderboard races on specific dates throughout the month, and you can win a share of over €150,000.
There are also daily offers and you can get weekly extra spin specials.
Get the chance to win a holiday worth €50,000!
You can also win a fantastic dream holiday package worth €50,000 that includes trips to Fiji, the Maldives and Las Vegas. To participate you will have to play the Netent games, and for every €200 that are wagered in the games until 31st of December 2017 you will get one ticket for the prize draw. You can collect as many tickets as you like.
 €100,000 leaderboard competition
There's also another promotion running from 29th of November to the 2nd of January, that includes a month-long leaderboard with a €25,000 prize pool and weekly shared pots of €15,000. To participate in this promotion, all you have to do is to play your favourite games. You will receive 1 point for every €10 that you wager in the games. For the weekly leaderboards you will need to own 100 points per week. The shared pot is broken down into three €5000 prize pools. Each of these pools is divided equally by the players who achieved the minimum points needed. Any player who collects a minimum of 100 points will get a share of €5000, players who earned 1000 points or more will share €5000 among them, and players who managed to get 5000 points will share the last €5000 between them. The monthly leaderboard has a top prize of €5000 for the player with the most points.
When you take part in this Christmas promotion at Guts Casino please remember to read the terms and conditions before participating. If you are new to Guts Casino, you might find some useful information in our detailed Guts Casino review as well. → Guts Bonus Terms and Conditons