What is the Return To Player - Slot Payout Rates
When you play a slot machine you should know that every slot has an average return to Player (RTP) percentage. This figure shows how much the slot theoretically pays back to the players.
For example, let us take a slot with an RTP of 93%. This means that the slot will pay out 93 Euros for every 100 Euros that have been played. The remaining 7 Euros are kept by the casino, and they are what the casino keeps for operating the slot. However, when you play slot machines and wager 100 Euros, it doesn't mean that you will get 97 Euros back - the RTP relates to an overall average of all players that play millions of rounds, and the percentage is usually calculated over a very long period of time.
The slot machines have different slot variances, which is the payout frequency and risk factor, and this affects how often the slot pays out, and how much it pays out. The slot variance does not affect the overall payout percentage. Even if you play a few rounds and don't win all your money back, it is likely that you will win some money back. However, a lot of the money will be paid out in the form of a larger jackpot. Every player does theoretically have the chance to win a jackpot or larger amount with just one spin. This shows that slot machines are sort-of like lotto. Many players play and one or more can get a larger win, some will win medium or smaller amounts, and other players will leave empty-handed.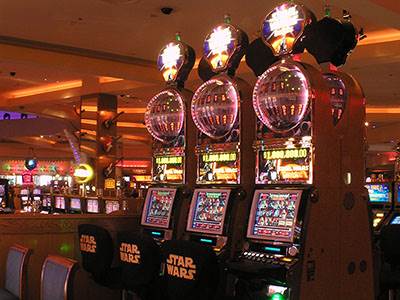 Are land-based or online slots more favourable to the player?
The payout percentage of slot machines in land-based casinos is set when they are built at the factory. The RTP of online slots is set by the developer or the operator. Land-based casinos usually have a much lower RTP than online casinos, and it is quite likely that the RTP is between 70 and 80%. In online casinos is it usually above 95%. This shows that playing online slots is much more favourable for the player, as it is more likely to win a larger win at the slot. The reason why the online operators can do this is the lower cost of operation. Since they don't have to rent large commercial casino premises or employ many casino employees, they can give back their savings to the player and offer them a higher payout.
How do I find out the RTP of a slot
Unfortunately, most developers don't publish their RTP. This makes it difficult for the players to distinguish a good slot from a bad slot. The developer Net Entertainment publishes the RTP percentage in the info of all their slot games and you can be sure that this RTP is the same in every Netent slot game that is offered in any of the casinos. Some online casinos also publish the RTP of their slots, but it is not the norm. It most certainly does not mean that you have better chances of winning at a slot if the operator reveals the RTP.
When playing at a serious and licensed casino the slot machines will be regularly tested for fairness. Even if you don't know the exact RTP of a slot machine, you can be certain that the game is fair and that you will not be cheated out of your money. Keep in mind to only play in licensed casinos, as it may happen that the RTP in unlicensed casinos has been tampered with, which would mean that you will never win any money, and most likely lose it all. All the casinos presented on CasinoDaemon.com have a licence and they are regularly tested for fairness - you can be certain to be in good hands with these operators.
Go back to the Overview of slots guides and tips or
Read other articles about
→ Play slots with software, instant play or mobile
→ Are online casinos trustworthy or a scam?
→ Slot machine strategies and myths
→ Playing slots with bonus money
→ Playing slots with real money