17.10.2018 written by Alice Kinlan
LeoVegas Cards Combo Promotion
Do you love playing Blackjack at a live table? If the answer is Yes you should definitely take a look at this LeoVegas promotion! You can win additional daily prizes in their Chambre Séparée and also collect points for the leaderboard with prizes totalling €20,000.
The promotion runs from the 7th of October to the 1st of November 2018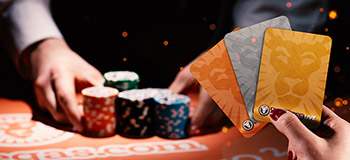 Gold, Silver and Bronze cards
To take part in this promotion, you'll first need to select Yes to Offers, Bonuses and Communications in your player account settings. You can then play at the Blackjack tables in the Chambre Séparée. You can receive bonus cards at the table, which are hidden in the regular card decks. The tables are available from Sunday to Thursday 17:00 - 23:59 CET. There are two bonus cards in each shoe, and there are bronze (3x=€25), silver (3x=€50) and gold (3x=€75) cards. Three cards of the same colour will then pay a prize, and you can win up to €150 per day.
Additionally, for every €1 played at the tables you will also get 1 point for the leaderboard. The best players will then receive a prize at the end of the promotion. the top prize is €6.000!
You can also win a scary Halloween Trick or Treat Prize between the 28th and the 1st.
Bonus terms of the promotion and from the casino apply.
About LeoVegas
The self-proclaimed king of mobile is one of the best casinos when it comes to variety in games and interesting promotions. Especially the selection of live games is interesting, as there are almost 90 tables from different operators available, allowing you to play at almost every online live table there is. The classics Roulette and Blackjack are available in abundance, and in different languages, but there are also Texas Hold'em, Casino Hold'em, Baccarat and other games waiting for you. You can find out what the casino offers in detail in our LeoVegas Casino review, or take a look at the frequently asked questions.